Leonia is a borough in Bergen County, New Jersey, United States. As of the 2010 United States Census, the borough's population was 8,937,[10][11][12]reflecting an increase of 23 (+0.3%) from the 8,914 counted in the 2000 Census, which had in turn increased by 549 (+6.6%) from the 8,365 counted in the 1990 Census.[21] It is a suburb of New York City located near the western approach to the George Washington Bridge.
Leonia was formed as the result of a referendum passed on December 5, 1894, from portions ofRidgefield Township.[22] The borough was formed during the "Boroughitis" phenomenon then sweeping through Bergen County, in which 26 boroughs were formed in the county in 1894 alone.[23] Portions of Leonia were taken on February 19, 1895, to form the Township of Teaneck.[22][24]
New Jersey Monthlymagazine ranked Leonia as its 31st best place to live in its 2008 rankings of the "Best Places To Live" in New Jersey.[25]
History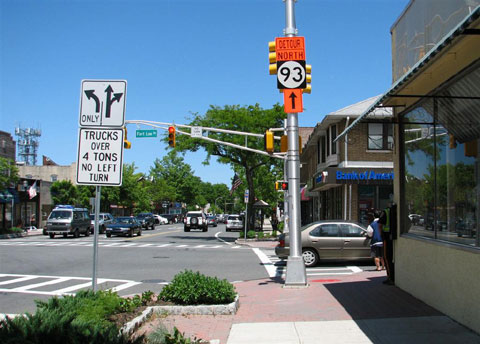 The original inhabitants of Leonia were the Hackensack tribe(Ashkineshacky) of Native Americans. The population was about 1,000 before the Europeans settled in the area. At the time of the American Revolutionary War, Leonia was known as part of the English Neighborhood, a name that survives in neighboring Englewood. It was settled in 1668 mainly by Dutch and English farmers, making it one of the oldest communities in the state and county.[26] A third of the population was African slaves. It was located on the western slope of the Palisades, and started as a quiet farming community. Leonia's proximity to New York City and its major universities, theaters and performing venues contributed to Leonia's place in the world of art and academics, with many artists and leading thinkers finding a home there in the twentieth century.
The local economy that had been focused on agriculture underwent economic and cultural growth during the late nineteenth century, marked by the introduction of train service at was originally called West Fort Lee. J. Vreeland Moore and other town leaders chose the name "Leonia" in 1865 in honor of American Revolutionary War General Charles Lee, for whom Fort Lee was named.[27][28]
After traveling through Leonia upon arriving in New Jersey by ferry atEdgewater in 1899, advertising executive Artemus Ward purchased a large piece of land and established the Leonia Heights Land Company to develop and market housing in the community. His advertising attracted many academics and artists who were drawn to Leonia's small size, culture, and location, earning the town's nickname of the "Athens of New Jersey".[29]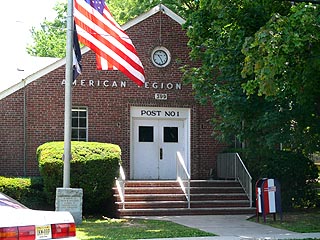 In 1915, the Leonia School of Illustration was established by Harvey Dunn, fostering the artists' colony that subsequently emerged over the next decade.[30] By the 1930s, it had the highest number of residents, per capita, in Who's Who in America and 80% of its residents were college graduates. Transportation through the borough was enhanced with access to ferries and trolley systems and Leonia became a refuge for many of America's most creative thinkers which included five Nobel Prize winners.[31]
For 200 years, one of the two major avenues that run north-to-south through Leonia, Grand Avenue (the other one is Broad Avenue) was called the English Neighborhood Road. In colonial times, this road served as the main inland route between Paulus Hook, Bergen, and the English Neighborhood. Leonia was a crossroads of the American Revolution and a training ground for American Civil Warsoldiers.
Historic places in the town include the Civil War Drill Hall and Armory and the Cole-Allaire House, constructed around 1765, making it the oldest dwelling in the borough, and placed on the National Register of Historic Places in 1976.[32] The Vreeland House, constructed in 1786 by Dirck Vreeland and expanded in 1815, was added to the National Register of Historic Places in 1978.[33]
Leonia celebrates "Leonia Day" annually on the third Sunday in May.[34]
Geography
According to the United States Census Bureau, the borough had a total area of 1.635 square miles (4.234 km2), including 1.536 square miles (3.977 km2) of land and 0.099 square miles (0.257 km2) of water (6.06%).[1][2]
While the borough center's elevation is 105 feet (32 m), the western part of the borough can reach 5 feet (1.5 m) and the eastern part of Leonia reaches 318 feet (97 m).[35]
The borough borders Englewood, Fort Lee, Palisades Park, Ridgefield Parkand Teaneck.[36]
Leonia is designated as a Tree City USA, receiving its 21st annual recognition in 2010 from the National Arbor Day Foundation.[37]
Arts and culture
Leonia is home to the Players Guild of Leonia, which operates as the oldest continuing theatre troupe in the state of New Jersey, and is one of the oldest community theatre groups in the state with continuous performances since 1919.[31] Performances have included comedies, tragedies, classics, and musicals. The Guild's production of One Mad Night in 1940 was the first three-act play performed on television, when it was broadcast on WPTZ, inPhiladelphia, Pennsylvania. In 1963, the Children's Show was instituted and continues each spring. Between 1968 and 1998, the Guild produced Theatre in the Park. Since 2002, the Players' Guild of Leonia has produced a Playwright's Showcase featuring original scripts. The Guild operates out of the historic Civil War Drill Hall Theatre on Grand Avenue which is leased from the borough. Recent productions include Kiss Me Kate, The Importance of Being Earnest, Our Town, The Pajama Game, I Never Sang For My Father, and The Melody Lingers On.[51]
Since 2000, Leonia has also been home to Summerstage at Leonia, which produces a Broadway-style family musical each summer in the last two weeks of July. Originally, Summerstage performances were held in the Leonia High School Little Theater, but now take place at the Civil War Drill Hall Theater. Auditions are held in May and open to all in the NY metro area. Past shows have included The Wizard of Oz, Carousel, The Sound of Music, Annie, Oliver, and Les Miserables.[52]
The Leonia Chamber Musicians Society, founded in 1973, is made up of professional musicians who reside in Leonia, has been performing classical music concerts four times a year at various venues in the borough.[53]
Sculpture for Leonia aims to build the art and cultural environment in Leonia through the display of outdoor sculpture throughout the community and in the Erika and David Boyd Sculpture Garden, which is located on the grounds of the Leonia Borough Annex.[54] This group sponsors an annual Taste of Leonia fundraiser. Leonia Arts provides a calendar of all arts events in Leonia.[55]
Parks and recreation
Leonia has five public recreational areas, of which only the Leonia Swim Club requires a membership fee. The recreation areas include Wood Park, located on the corner of Broad Avenue and Fort Lee Road; Sylvan Park and the Leonia Swim Club, both on Grand Avenue near Sylvan Avenue; and the Recreational Center on Broad Avenue which has an indoor basketball court.[31] Leonia NJ Homes for Sale
Overpeck County Park, a Bergen County park that is located in Leonia, Ridgefield and Teaneck, is home of the county's World Trade Center Memorial.[56] Leonia NJ Homes for Sale
Government
Local government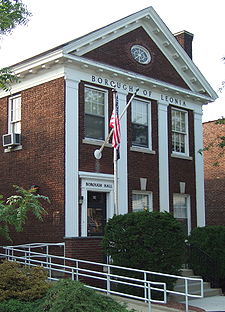 Leonia is governed under theBorough form of New Jersey municipal government. The governing body consists of a Mayor and a Borough Council comprising six council members, with all positions elected at-large on a partisan basis as part of the November general election. A Mayor is elected directly by the voters to a four-year term of office. The Borough Council consists of six members elected to serve three-year terms on a staggered basis, with two seats coming up for election each year in a three-year cycle.[8] The Borough form of government used by Leonia, the most common system used in the state, is a "weak mayor / strong council" government in which council members act as the legislative body with the mayor presiding at meetings and voting only in the event of a tie. The mayor can vetoordinances subject to an overrideby a two-thirds majority vote of the council. The mayor makes committee and liaison assignments for council members, and most appointments are made by the mayor with the advice and consent of the council.[57][58]
As of 2016, the Mayor of Leonia is Democrat Judah Zeigler, whose term of office ends December 31, 2019.[3] The members of the Leonia Borough Council are Council President Greg Makroulakis (D, 2015), Bernadette Flaim (D, 2016), Pasquale "Pat" Fusco (D, 2017), Maureen Davis Havlusch (D, 2017), Mark Minichiello (D, 2015) and Darryl Whitter (D, 2016).[59][60][61][62][63][64][65] Leonia NJ Homes for Sale
Peter Knott was appointed to fill the seat vacated by John DeSimone when he took office as mayor and won election to serve the balance of the term through December 2013.[66]
Pat Fusco was appointed in August 2013 to fill the vacant seat of Ik-Seong "I.S." Pak, who had resigned earlier that month citing personal issues.[67]Mark Minichiello was elected in November 2013 to serve the balance of the term. Leonia NJ Homes for Sale
Federal, state and county representation
Leonia is located in the 9th Congressional District[68] and is part of New Jersey's 37th state legislative district.[11][69][70]
New Jersey's Ninth Congressional District is represented by Bill Pascrell (D,Paterson).[71] New Jersey is represented in the United States Senate byCory Booker (D, Newark, term ends 2021)[72]and Bob Menendez (D,Paramus, 2019).[73][74] Leonia NJ Homes for Sale
For the 2016–2017 session (Senate, General Assembly), the 37th Legislative District of the New Jersey Legislature is represented in the State Senate by Loretta Weinberg (D, Teaneck) and in the General Assembly byValerie Huttle (D, Englewood) and Gordon M. Johnson (D, Englewood).[75]The Governor of New Jersey is Chris Christie (R, Mendham Township).[76]The Lieutenant Governor of New Jersey is Kim Guadagno (R, Monmouth Beach).[77]
Bergen County is governed by a directly elected County Executive, with legislative functions performed by a seven-member Board of Chosen Freeholders.[78] As of 2015, the County Executive is James J. Tedesco III(D, Paramus; term ends December 31, 2018).[79] The seven freeholders are elected at-large in partisan elections on a staggered basis, with two or three seats coming up for election each year, with a Chairman, Vice Chairman and Chairman Pro Tempore selected from among its members at a reorganization meeting held each January.[80] Bergen County's Freeholders are Freeholder Chairwoman Joan Voss (D, 2017; Fort Lee),[81] Vice Chairman Steve Tanelli (D, 2015; North Arlington)[82] Chairman Pro Tempore John A. Felice (R, 2016; River Edge),[83] David L. Ganz (D, 2017;Fair Lawn),[84] Maura R. DeNicola (R, 2016; Franklin Lakes)[85] Thomas J. Sullivan Jr., (D, Montvale, 2015; serving the unexpired term of office that had been occupied by James Tedesco before he was sworn in as County Executive)[86][87] and Tracy Silna Zur (D, 2015; Franklin Lakes).[88][89]Countywide constitutional officials are County Clerk John S. Hogan (D,Northvale),[90] Sheriff Michael Saudino (R)[91] and Surrogate Michael R. Dressler (D, Cresskill).[92][93][78]
Politics
As of March 23, 2011, there were a total of 4,713 registered voters in Leonia, of which 2,493 (52.9% vs. 31.7% countywide) were registered asDemocrats, 598 (12.7% vs. 21.1%) were registered as Republicans and 1,619 (34.4% vs. 47.1%) were registered as Unaffiliated. There were 3 voters registered to other parties.[94] Among the borough's 2010 Census population, 52.7% (vs. 57.1% in Bergen County) were registered to vote, including 67.9% of those ages 18 and over (vs. 73.7% countywide).[94][95] Leonia NJ Homes for Sale
In the 2012 presidential election, Democrat Barack Obama received 2,451 votes (66.8% vs. 54.8% countywide), ahead of Republican Mitt Romney with 1,135 votes (30.9% vs. 43.5%) and other candidates with 47 votes (1.3% vs. 0.9%), among the 3,668 ballots cast by the borough's 5,065 registered voters, for a turnout of 72.4% (vs. 70.4% in Bergen County).[96][97] In the2008 presidential election, Democrat Barack Obama received 2,604 votes (65.9% vs. 53.9% countywide), ahead of Republican John McCain with 1,273 votes (32.2% vs. 44.5%) and other candidates with 30 votes (0.8% vs. 0.8%), among the 3,953 ballots cast by the borough's 5,050 registered voters, for a turnout of 78.3% (vs. 76.8% in Bergen County).[98][99] In the2004 presidential election, Democrat John Kerry received 2,468 votes (64.4% vs. 51.7% countywide), ahead of Republican George W. Bush with 1,327 votes (34.6% vs. 47.2%) and other candidates with 25 votes (0.7% vs. 0.7%), among the 3,835 ballots cast by the borough's 4,878 registered voters, for a turnout of 78.6% (vs. 76.9% in the whole county).[100] Leonia NJ Homes for Sale
In the 2013 gubernatorial election, Democrat Barbara Buono received 50.8% of the vote (1,078 cast), ahead of Republican Chris Christie with 47.9% (1,015 votes), and other candidates with 1.3% (27 votes), among the 2,205 ballots cast by the borough's 4,826 registered voters (85 ballots were spoiled), for a turnout of 45.7%.[101][102] In the 2009 gubernatorial election, Democrat Jon Corzinereceived 1,682 ballots cast (60.7% vs. 48.0% countywide), ahead of Republican Chris Christie with 901 votes (32.5% vs. 45.8%), Independent Chris Daggett with 120 votes (4.3% vs. 4.7%) and other candidates with 7 votes (0.3% vs. 0.5%), among the 2,773 ballots cast by the borough's 4,880 registered voters, yielding a 56.8% turnout (vs. 50.0% in the county).[103] Leonia NJ Homes for Sale
Education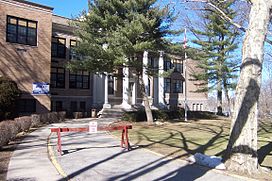 Leonia is served by its public system and by a number of private schools.[104]
The Leonia Public Schoolsserve students fromKindergarten through twelfth grade. Students fromEdgewater attend the district's schools for grades 7-12 as part of asending/receiving relationship with the Edgewater Public Schools.[105][106] Leonia NJ Homes for Sale
As of the 2013-14 school year, the district's three schools had an enrollment of 1,812 students and 163.6 classroom teachers (on an FTE basis), for astudent–teacher ratio of 11.1:1.[107] Schools in the district (with 2013-14 enrollment data from the National Center for Education Statistics[108]) are Anna C. Scott Elementary School[109] (634 students in grades PreK-5), Leonia Middle School[110](484; 6-8) and Leonia High School[111] (696; 9-12).[112][113]
Public school students from the borough, and all of Bergen County, are eligible to attend the secondary education programs offered by the Bergen County Technical Schools, which include the Bergen County Academies inHackensack, and the Bergen Tech campus in Teterboro or Paramus. The district offers programs on a shared-time or full-time basis, with admission based on a selective application process and tuition covered by the student's home school district.[114][115] Leonia NJ Homes for Sale
St. John the Evangelist School was a Catholic school for students in grades PreK-8, operating under the supervision of the Roman Catholic Archdiocese of Newark. After 72 years and generations of graduates, it was closed in June 2013.[116] Leonia NJ Homes for Sale
Transportation
Roads and highways
As of May 2010, the borough had a total of 23.02 miles (37.05 km) of roadways, of which 19.53 miles (31.43 km) were maintained by the municipality, 1.12 miles (1.80 km) by Bergen County, 1.56 miles (2.51 km) by the New Jersey Department of Transportation and 0.81 miles (1.30 km) by the New Jersey Turnpike Authority.[117] Leonia NJ Homes for Sale
Route 93 (Grand Avenue) runs north-south for 1.5 miles (2.4 km) through the center of the borough, connecting Palisades Park and Englewood.[118]Interstate 95 (the New Jersey Turnpike) curves along the borough's northern border[119] while U.S. Route 1/9 and U.S. Route 46 briefly enter along the western border with Fort Lee.[120][121]
Public transportation
New Jersey Transit bus routes 166 provides service to the Port Authority Bus Terminal in Midtown Manhattan, and 182 services the George Washington Bridge Bus Terminal, with local service offered on the 751, 755 and 756 routes.[122] Leonia NJ Homes for Sale
Rockland Coaches provides service to the Port Authority Bus Terminal on the 11T/11AT, 14ET, 20T and 21T routes.[123] Leonia NJ Homes for Sale
The Northern Branch Corridor Project, a proposal to restore passenger train service on the CSX tracks, which had offered passenger service decades before and is now used for occasional freight service. New Jersey Transit's plan would include a station in Leonia as part of its route between Tenafly and North Bergen.[124] Leonia NJ Homes for Sale